Jaipur Sightseeing Tour Packages
Planned by Vidyadhar Bhattacharya, Jaipur has got the distinction of being the first planned urban center of India. Renowned globally for its colored gems, the capital city of Rajasthan combines the allure of its ancient history with all the advantages of a city. The bustling modern city is one of the three recessions of the golden triangle that includes Delhi, Agra, and Jaipur.
The report goes that in 1876, the Prince of Wales visited India on a turn. Since the color pink was symbolic of hospitality, Maharaja Ram Singh of Jaipur painted the entire city pink. The pink that colors the city prepares for a marvelous spectacle to behold. Jaipur rises up majestically against the background of the forts Nahargarh, Jaigarh and Garh Ganesh Temple.
Jaipur traces back its origins to 1727 when it was built by Jai Singh II, the Raja of Amber. He transferred his capital from Amber to the new city because of the rapidly-growing population and increasing water scarcity. Noted architect Vidyadhar Bhattacharya used the conventional principles of Vastu Shastra to build the urban center.
Top Trending Jaipur Holiday Destinations
---
Hawa Mahal
Built from pink sandstone, the Hawa Mahal is Jaipur's iconic landmark and visitors can view its complete magnificence from outside, from across the road.
Jantar Mantar
It also houses the Interpretation Centre that helps the tourists to understand about the working principles & chronolgy of the observatory.
City Palace
Located deep within the walled city, the City Palace Complex was conceived and built by Maharaja Sawai Jai Singh II, the founder of Jaipur.
Amber Palace
The palace is nearly seven centuries old and has a legendary past. The splendour of the palace is enhanced by the breath-taking vista of the Maota Lake in front.
---
Albert Hall Museum
The building gets its name from The Victoria and Albert Museum in London, the inspiration for its design.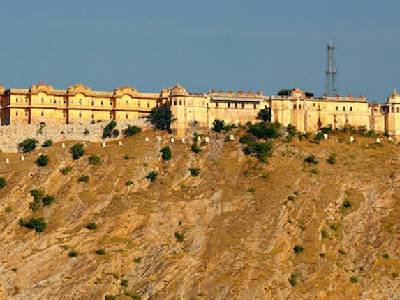 Nahargarh Fort
Nahargarh Fort sits proudly on a ridge of the Aravalli Hills, creating an impressive northern backdrop to the city of Jaipur.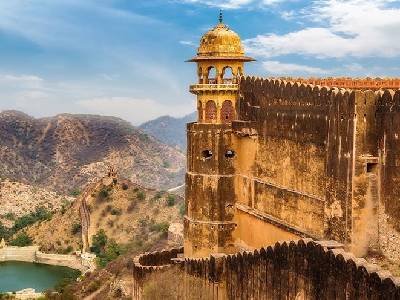 Jaigarh Fort
Jaigarh Fort was built by Sawai Jai Singh II sometime in the early 18th century amidst the arid, rocky and thorn-scrub covered hills.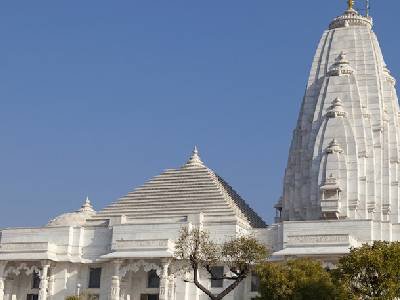 Birla Temple
The temple is dedicated to Lord Vishnu, also called Narayan, and his companion, Lakshmi, the Goddess of wealth and good fortune.
---
Jal Mahal
One of the most wonderful sights in Jaipur is the beautiful Jal Mahal or Lake Palace.
Gaitore
Just off the Jaipur-Amber road is Gaitore, where the former Maharajas of Jaipur are entombed.
Sisodia Rani Palace
Sisodia Rani Palace and Garden is located 8 kilometres from Jaipur on the Agra road.
Anokhi Museum
At a mere ten-minute walk through the cobbled streets of Amber lies the Anokhi Museum of Hand Printing.